National 1965-1968 Chevelle, Chevy II/Nova & Corvette L79 Registry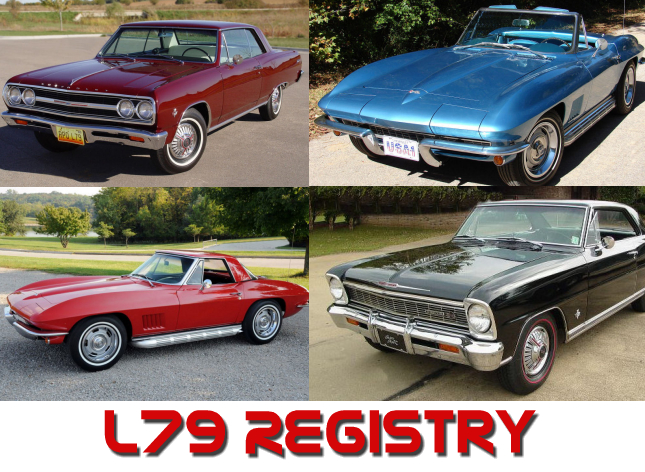 Dedicated to the preservation and history of the L79
Anyone with a documented RPO L79 Chevelle, Chevy II, or Corvette is encouraged to submit the data requested on the contact form. No owner's name, address, or email account will be published unless they so desire. All personal data of this type will be kept in a database. Anyone requesting such data will have their request forwarded to the current owner on file. If they wish to respond, it will be up to the owner. I will only pass along the request. The L79 Registry is dedicated to preserving the history and heritage of these cars.
Please visit my ChevelleStuff.net web site for more 1964-1972 Chevelle information.
Disclaimer:
Where applicable, and with consent from the present owner, his/her name will be noted. If the owner dos not wish to be known, their personal information will remain on file with the L79 Registry for future use & correspondence and will not be publicly released.
Updates:
Have or need paperwork or parts for an RPO L79? The Orphan page may help. Not a page to sell L79 items as such but rather this section is to reunite paperwork or parts with the car. Items for sale are found on the For Sale page.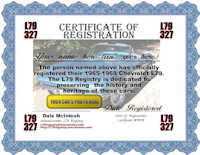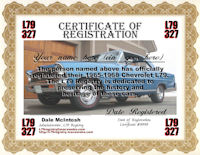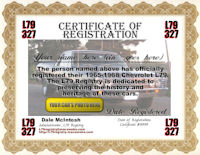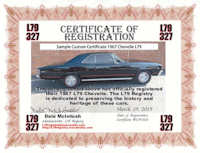 L79 Certificate of Registration


For Sale & Wanted