1966 Chevelle SS396
in Aztec Bronze

1964-1972 Chevelle Data and ID Guide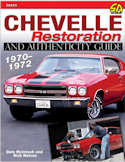 Chevelle Restoration and
Authenticity Guide 1970-1972


SS396 Challenge Coin
My books are currently available at
Car Tech Books, Amazon.com, Barnes & Noble, Summit Racing, Jegs,
and maybe even your local book store!
Signed copies of some of my books available on my ChevelleCD.net website.
1966 Chevelle Reference CD Demo
Only links in the menus on the left in UPPER CASE are active and have data. All others in lower case link to a page with ordering information.
This demo will give you a look and feel of the 1966 Chevelle Reference CD. Data are continually being added to the production CD so even some live information on this demo is subject to change on the production CD.
Almost 1100 pages and over 2,200 photos on the live version!
Hundreds of decoded trim tag images from every assembly plant.
Q - What is the history of the Chevrolet Bowtie, and how was it created?
A - Two thoughts...In 1913, the now famous "bowtie' logo appeared for the first time on Chevrolets. Legend maintains ... and Billy Durant (Chevrolet founder) is supposed to have confirmed it ... that the bowtie shape was inspired by a pattern of wallpaper he saw in a Paris hotel room in 1908. He supposedly detached a small piece, folded it and placed it into his wallet, waiting for the day he'd put it to use. Durant's wife later refuted the story, saying the design was noticed in a newspaper Sunday supplement while they were on vacation in Virginia.
Whatever the real story, the bowtie proved to be a recognizable winner, and is still the marquee of today's Chevrolet.
1966 Chevelle Registries:
Consider registering your 1966 SS396 in my SS396 Registry.
Consider registering your 1966 SS936 with L78 engine option in my L78 Registry.
Consider registering your 1966 El Camino in my El Camino Registry.
Consider registering your 1966 300/300 Deluxe/Malibu in my Chevelle Registry.
All registries are free!
You might also be interested in the 1966 Chevelle and El Camino Factory Assembly Instruction Manual, Shop Manuals and Parts Catalog, or my Trim Tag/POP Decoder CD . Visit ChevelleCD.net for more details. (Requires Internet connection)