About Me
I have been involved with Chevelles off and on since October of 1967 when I purchased my first 1967 SS396 Sport Coupe, a black/black 4-speed 350hp beauty. Since then I've owned 2 other SS396 models, 1 Malibu, and 2 El Caminos, all 1967s plus one 1969 300 Deluxe Coupe with the SS396 option - some of which are shown below.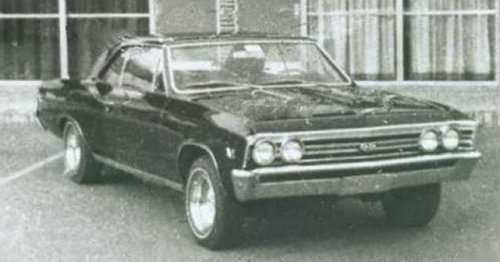 My first 1967 SS396 Sport Coupe. Car was purchased just before entering military service in October of 1967. Note absence of 'Chevelle' script on the hood. I knew the previous (original) owner and he admitted to removing the standard (red) SS stripes but swore he never touched the hood. A few early promotional photos showed Chevelles without this script.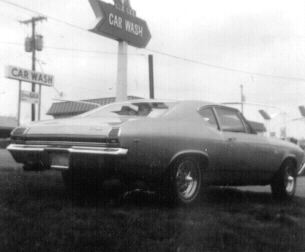 My one and only 1969 Chevelle, a 300 Deluxe Coupe with the SS396 option finished in Frost Green. The car was purchased in mid 1970 after returning from military service and is shown with real, 1956 Buick wire wheels. While I owned this car I longed for another 1967 model and found another 67 SS396 done in a gun-metal gray color. I owned both this '69 and the '67 for a number of years before becoming a 'family man' and having to move on.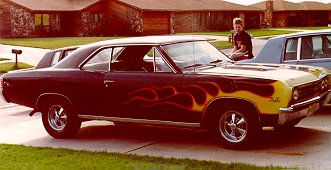 This car I purchased in September of 1986 from a gentleman in Dallas, TX. who loaned a friend $1750 against the car. The 'friend' never returned to repay the loan and the seller didn't want the car anyway. Here's how it looked when I first brought the car home. Clutch almost gone, shift linkage so bad I only had 3rd and 4th or 1st and 2nd gear. It was a challenge driving it 150 freeway miles from Dallas back to Lawton, OK. but I made it using only 3rd and 4th gear. Although the original engine was long gone and it had a small block engine, it was a real SS, 4-speed, bucket seat car.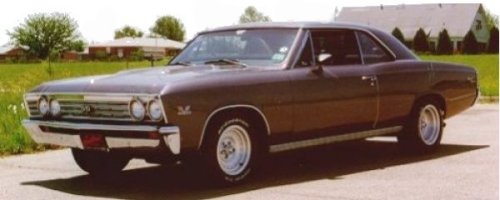 While this photo is NOT the '67 mentioned above, it is a very close match. By July of 1987 it was on the road and painted a 1987 Buick Regal T-Type gray as shown in the above photo. I drove the car in this general configuration until 1998. After 4 years of daily driving, I began entering local car show events and did quite well until it began to show its age and a makeover was decided on. The car saw close to 33,000 miles in this stage and was on a trailer only twice. Once to have exhaust installed after replacing the engine with a 396 and once for a broken rear u-joint.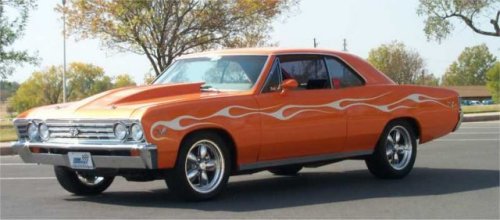 In June of 1998, the car went back on the blocks for a new rebuild and update. The GR8PMKN above was the result. I enjoyed the car and its limited notoriety until sold in 2004. From 1999 until the day it was sold, the car was driven in pretty much this form (a few add-ons and upgrades along the way) almost daily with weather permitting. It ventured to Wichita, KS., Tulsa, OK. twice, Dallas, TX., Kansas City area numerous times and Nashville, TN. 4 times for Chevelle shows. As before, the car was never trailered to any event and saw another 32,000 miles before being sold in July of 2004.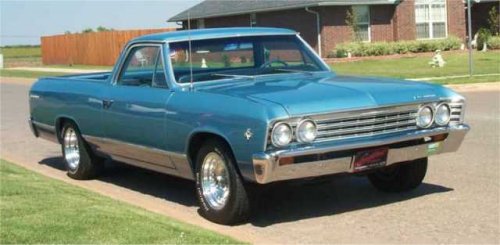 My current El Camino was purchased in September of 2001 and is my only remaining tie to the 1967 world. There are plans for the car to take it beyond its current mild state and I'm sure I'll enjoy every minute of it.
Now, the reason for this publication. Most of the information presented here can be found in other publications but, in my opinion, not in the collective depth or specifics to a single model year as I've attempted to create here.