1967 SS396 Chevelles (13817/13867)
Date
Registered
Series/
Model
Sequence
Color
Int - Ext
Body Date
Body Number
Trans/Rear
Date / Dealer / Misc
Notes

Atlanta, Georgia

06/20/2015
13817
1066xx
761-A
K-K
09D-1375
(2)
01/03/2015
13817
1323xx
761-A
G-G
11D-6986
(2)
09/21/2015
13817
1330XX
750-B
R-R
11D-7019
M40/xxx
(2)
10/24/2010
13817
1334xx
778-B
K-K
11D-7170
(2)
12/17/2014
13817
1450xx
747-A
A-2
01D-10471
(2)
12/13/13
13817
1491xx
784-B
G-2
02C-11567
M35/3.07:1
(2)
10/23/2014
13817
1667xx
738-B
D-2
05C-15999
(2)
02/23/2010
13817
1695xx
763-B
A-A
05D-16856
M21
(2)
02/08/2012
13817
1743xx
763-B
N-N
06C-17939
M20/3.31:1
(2)
9
Date
Registered
Series/
Model
Sequence
Color
Int - Ext
Body Date
Body Number
Trans/Rear
Date / Dealer / Misc
Notes

Baltimore, Maryland

02/04/2010
13817
1084xx
763
N2
09E-735
(2)
02/21/2013
13817
116043
731
FF
10C-1396
(2)
07/06/2015
13817
1263xx
761
FF
11C-BAL 2033
(2)
04/01/2014
13867
1282xx
763
T2
11D-BAL 783
(2)
10/22/2013
13867
1319xx
761
R2
02C-BAL 760
(2)
09/12/2006
13817
1368xx
783
G2
12C-3183
(2)
10/23/2006
13817
1529xx
763
YY
02C-4997
(2)
04/14/2014
13817
1779xx
761
Y2
04D-BAL 1600
(2)
7
Date
Registered
Series/
Model
Sequence
Color
Int - Ext
Body Date
Body Number
Trans/Rear
Date / Dealer / Misc
Notes

Framingham, Massachusetts

12/07/2009
13817
1170xx
784-B
T-2
04C-2086
M21/3.73:1
09-23 / ETSCOVITZ MOTORS -
MADAWASKA, ME.
(2)
1
Date
Registered
Series/
Model
Sequence
Color
Int - Ext
Body Date
Body Number
Trans/Rear
Date / Dealer / Misc
Notes

Fremont, California

01/31/2015
13817
1177xx
761
GG
(2)
03/16/2010
13817
1236xx
763
M2
01C-03312
(2)
07/31/2015
13817
1594xx
761
YY
07B-07791
(2)
3
Date
Registered
Series/
Model
Sequence
Color
Int - Ext
Body Date
Body Number
Trans/Rear
Date / Dealer / Misc
Notes

Kansas City, Missouri

06/10/2012
Cert #004
13817
1133xx
750-B
A-A
10B-2662
(2)
06/12/2012
13867
1316xx
731-B
F-4
11D-310
(2)
10/21/2007
13817
1413xx
(2)
12/24/2012
13817
1471xx
784-B
H-H
01B-KAN 7565
(2)
03/04/2013
13817
1477xx
763-B
S-2
01B-7680
(2)
06/19/2007
13817
1832xx
763-B
A-A
04D-13135
(2)
02/08/2012
13817
189797
763-B
A-A
Original owner wishes to locate car for possible purchase
(2)
13817
200753
761-A
E-E
Original owner wishes to locate car for possible purchase
(2)
07/23/2011
13867
2158xx
763-B
F-2
07B-853
(2)
02/14/2010
13817
2172xx
763-B
H-2
07C-17673
(2)
10
Date
Registered
Series/
Model
Sequence
Color
Int - Ext
Body Date
Body Number
Trans/Rear
Date / Dealer / Misc
Notes

Oshawa, Ontario

12/24/2006
13817
1058xx
750
VV
12-8-247129
M20/
(1)
04/30/2014
13817
1141xx
738
EE
4-29-254266
M20/
May 3 / DANGERFIELD MOTORS -
BARRIE, ON
(1)
2
Notes:
° n/v - Not verified via paperwork and/or some paperwork is suspect or incomplete.
(1) Data arrived at via what is believed to be a VIN or other documentation. Last two digits of sequence number suppressed until registered by owner. If you own any of these Chevelles or know the current owner, please contact the SS396 Registry.
(2) Documentation supplied by current or former owner. (If there is a link here it will link to a page of the car's photo/history/story.)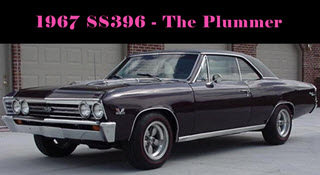 Want to show off your SS396 at the next car show? ChevelleCD is offering these 3.5" x 2" non-abrasive car show/toolbox magnets custom made with your car's photo. Only $14.95 for a sheet of 10. These 10 can be the same image, 5 each of 2 images, or 10 individual images. See ChevelleCD.net for details!