Body - Introduction
For consistency, the term series refers to Chevelle 300 (131-132xx), Chevelle 300 Deluxe (133/134xx), Malibu (135/136xx), SS396 (13817-67). The term model refers to the particular body style such as 2-door sport coupe (17), convertible (67), pickup (80), etc.
The 1967 Chevelle body styling was only slightly changed from the 1966 model year with fresh front and rear sheet metal restyling and some important safety features incorporated such as the collapsible steering column, 4-way hazard flashers, and backup lights in the rear bumper.

Paint Colors
As is generally the case in a new model year, several paint color choices were dropped while new colors were added. Notably removed were Aztec Bronze and Chateau Slate. Added were Royal Plum and Granada Gold. Changed slightly were Mist Blue to Nantucket Blue, Danube Blue to Deepwater Blue, Willow Green to Mountain Green, Artesian Turquoise to Emerald Turquoise, Tropic Turquoise to Tahoe Turquoise, Regal Red to Bolero Red, Sandalwood Tan to Sierra Fawn, Capri Cream to Cameo Beige, and Lemonwood Yellow to Butternut Yellow.
GM of Canada offered several color choices not available in the U.S. market, Verde Green Metallic, Silver Glaze Metallic, and Antique Pewter metallic. Additionally, some colors were given different names (and possibly different mixing formulas) but were essentially the same color such as Provincial White vs. Ermine White.
SS396
All SS396 models (13817 and 13867) included special lower body trim, a dual-louvered hood and SS396 badges. All SS396 series came standard with a 396/325hp engine, heavy duty, full synchromesh 3-speed floor shifted transmission and front bench seat. Bucket seats, consoles, 4-speed manual transmission and the Powerglide automatic transmission were optional equipment.
Unlike 1966, all SS396 models received a blacked-out rear cove.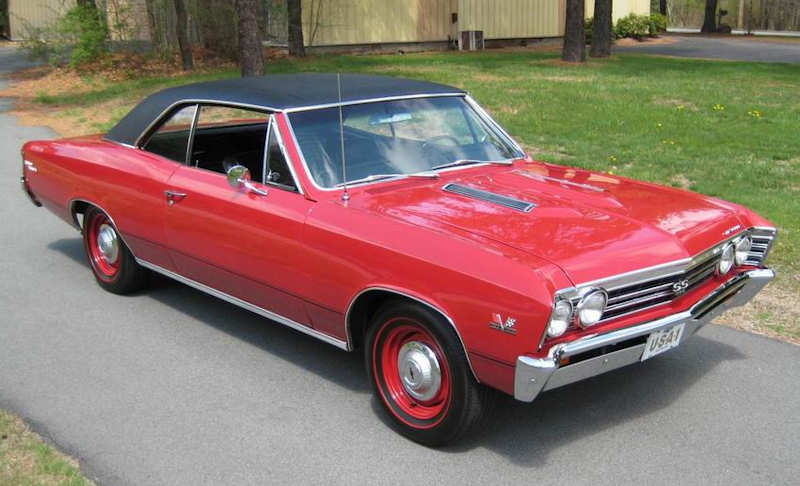 Need additional reference material?